For Immediate Release
"The Adventure Pals" is getting a Physical Release on the Switch, thanks to Super Rare Games
Limited edition of the quirky platformer coming soon

Super Rare Games today have announced their partnership with Massive Monster and Armor Games Studios to physically release The Adventure Pals for the Nintendo Switch™ – only 4,000 copies of this well-loved indie title will be on sale, and pre-orders for the game open on the 10th of January exclusively at superraregames.com.

Super Rare Games has worked on some of the biggest and most loved indie games on the console, recently they have released Worms: W.M.D, Snake Pass and N++ . Having only formed in February 2018, they have quickly become a staple for any video game collector.

The Adventure Pals is a quirky game about friendship involving a small boy and the crazy adventures he goes on with his backpack helicopter-tongued giraffe and pet rock. The boy must explore his childhood as he goes on an epic quest to rescue his papa from being turned into a hot dog, and eventually save the world. Created by Massive Monster, the game originally released in April of 2018 for desktop, Nintendo Switch, PlayStation 4, and Xbox One.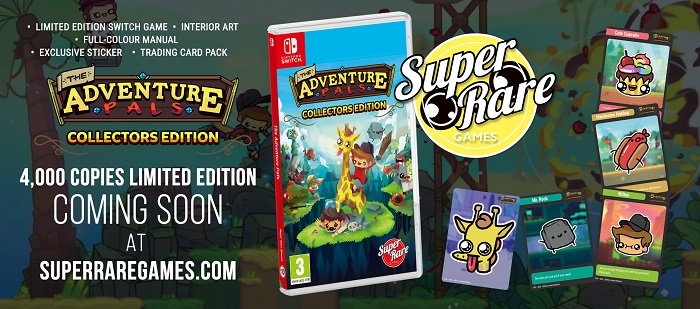 Optional local drop in and out co-op is an important part of The Adventure Pals, letting you adventure solo or with a buddy. Discover mysteries and delights along your the way as you discover all five areas, each area more surprising as the last each comprising of it's own story lines. Take on enormous bosses, fight your way through intricate levels, choose power-ups as you grow stronger, and of course, save the world with the power of friendship!

"I was at a games show in London with my little sister and we spent half of our time there playing this game. Its funny, clever and offers hours of satisfying platformer gameplay. When we left, she told me I had to sign the game. I am glad that I will be able to get her a copy of 'The Adventure Pals' for her shelf" said George Perkins from Super Rare Games.

The Super Rare edition will include a 20 page full colour manual, interior artwork, exclusive sticker, as well as three trading cards randomly selected from the five-card set.

"We are thrilled to be working with Super Rare on bringing a physical version of The Adventure Pals to Switch! The game feels right at home on a Nintendo console and plays great in local co-op using the Joy-Cons. It will make a colourful addition to anyones collection!" said James Permain from Massive Monster

Order your copy on the 10th of January at superraregames.com for $34.99 / £29.99 / €33.99.

For more information about The Adventure Pals please visit Massive Monster's website and follow Super Rare Games on Twitter for news and updates.
—

About Super Rare Games
Super Rare Games strive to bring collectors the very best physical content for the Nintendo Switch™. We operate alongside our partners to bring the most exclusive offering of the very best indie games. From the packaging of the products to opening the limited edition trading cards, we aim to provide gamers with the purest experience. As we look to expand our collection of games, we hope you join us and grow yours too. You can find out more on the Super Rare Games website, Twitter, Facebook or Instagram

About Massive Monster
Massive Monster is a creative collective. They have worked on over 50 games and cram our personality into everything they do. They believe in a world where everything can have a story.

About Armor Games Studio
From their roots as a beloved platform for web games to their work as a publisher that focuses on celebrating the talent of indie developers, Armor Games Studios is a company that believes in putting the creators they work with first, bringing their work to players on everything from mobile and desktop to console.